Wales of Fun and a

Wicked

Good Time...
This past weekend we took a break from jolly ole London and headed for Wales...to the capital city of Cardiff to be exact. The girls had a great time on the train and it was nice to break things up a little. We were able to visit Castle Cardiff that was really neat. We climbed a really big tower and watched a real sword fight. We were able to tour the rooms of the Castle that were refurbished in the late 1800's.
It rained a lot whilst we were there but that did not stop the fun. The hotel had a large indoor pool with a hot tub. We put on our suits and off we went. The kiddos had a BLAST! Other Guy and I enjoyed just kicking back with the girls and staying in a pretty sweet hotel. Thanks to Other Guy's points, it was all free too, which made it even sweeter. We also took an open top tour bus to see some of the cities sites. We visited some museums and the girls were able to ride a merry go round. We had lunch and then headed to the train station. Here are a few photos...as you can see, Curly was worn out: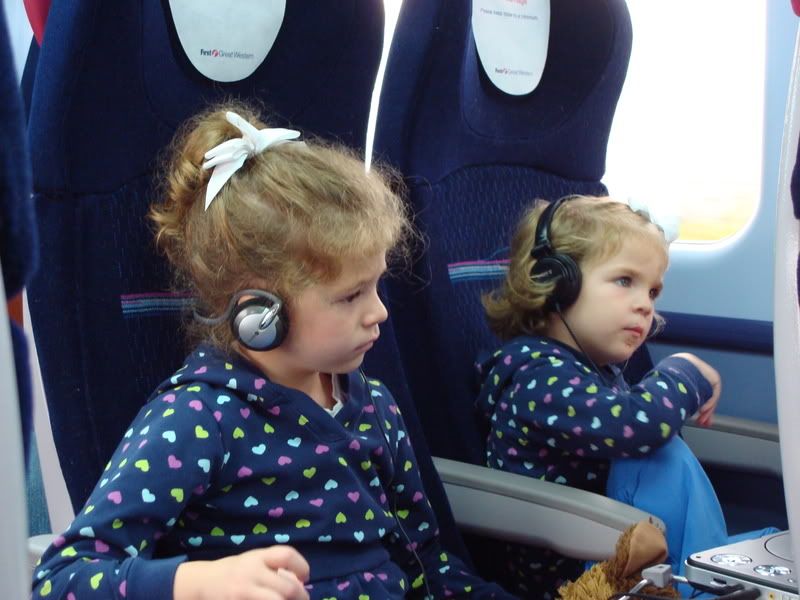 This week and last, London does something called Kids Theatre Week. During these two weeks, they lower the age requirements to go to shows and offer lots of different specials. The girls have really enjoyed watching The Wizard of Oz so we decided to take our chances and take them to the musical Wicked. (for those of you who don't know, it's a spin off of sorts from Wizard of Oz) So, we bought really cheap tickets (in case we had to leave), got the girls all dressed up and headed out for a family date night. The girls LOVED IT! It was so cute to hear them talking ninety miles a minute when we left the show. They knew some of the songs already because their mommy loves that show and has the CD. I wish you could have seen their faces all during the show. They were completely taken. Unfortunately, no pics during the show, but here is a little video of them. It is really dark but you will get the point.
Well, gotta run, housework and laundry calls. I'll post more pics soon.
Peace Out!