A list of "First Times" whilst in London:
Today, I saw pigeons mating...I always wondered why there were so many of them...I guess now I know. However, I do find it odd that I am always the one who spots this type of thing. Maybe, it's my animal

magnetism

??? The camels at the KC Zoo sure think so ;0)
I saw a Kookaburra bird today at

Battersea

Children's zoo, you know from the old children's song (Kookaburra Kookaburra sits on the old gum tree Merry merry king of the bush is he Laugh Kookaburra, laugh Kookaburra Gay your life must be ) They really sound like humans laughing. It was so funny. Picture below.
I saw a word that you don't usually see in a child oriented establishment. But, there it was right there by the

Kookaburra

cage...see picture below.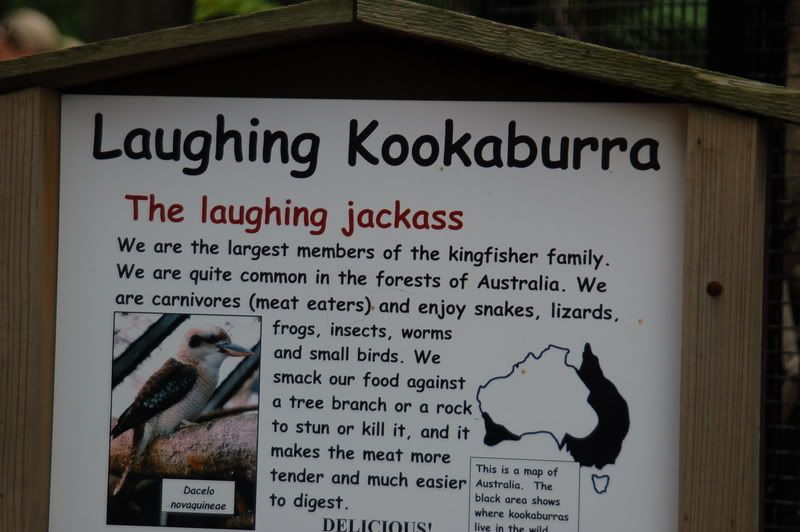 I saw an entire bus line stopped for a man that kept yelling on the bus about Londoners looking at him "queerly" and then saying "they should take a look at how queer they look before they look at me." He then

proceeded

to make his way to the back of the bus and sit beside us, where he loudly asked Moe, "what are YOU looking at?" The bus driver, stopped the bus, called for the Scotland Yard and told us to get off and hop on the next bus...okay, fine with me...let's go girls.
I ran into an American on the bus ride home from the above mentioned park. He, his wife and young son have been here for about a year and asked where we were from...Kansas, I said but originally from Florida. He said, "Oh I guess your not a big Chiefs fan this season!" and chuckled. I told him that actually we were still pretty big Jag fans but that the NFL played a part in bringing us to Kansas as a friend of our used to play for both teams. He asked who and I told him...to my

surprise

, he says "Oh yeah, Jon Quinn. I know him, well not personally but I have followed him for some time. I travel a lot so the first time I saw him was in the European League. Really nice guy, but an even better man. I really like what that guy stands for." Well, let's just say I had to pick my chin up off the ground. What do you say to that? "Oh come one, sure you know who I'm talking about...WHATEVER!" But this guy knew about the league in Europe! That was like forever ago. I guess when you make an impression, you make an impression...Well done Big Jon...well done!
Curly and Moe had their first face painting today and boy were they excited. They are patiently awaiting the arrival of Other Guy as I type, they can not wait to show him their beautiful art work. Here's a pic of that too...
Well that's about it for now. We are headed to an amusement park tomorrow so I'll update you later.
Peace Out!
Labels: London Days