Sharpay Eagles and a Zebra with a case of the Tooty Fruities...
This past weekend we loaded a train and set out on our 5 hour travels to Edinburgh, Scotland. Let me just say...HOLY COW! That place is beautiful. Once again, thanks to Other Guy saving up his points, we were in a mac daddy hotel that had a view of the Edinburgh castle...literally! You can see the picture below...that was taken from our window. It was amazing. I can honestly say that this "westside" girl has never been in places as nice as what I have seen on my travels with Other Guy.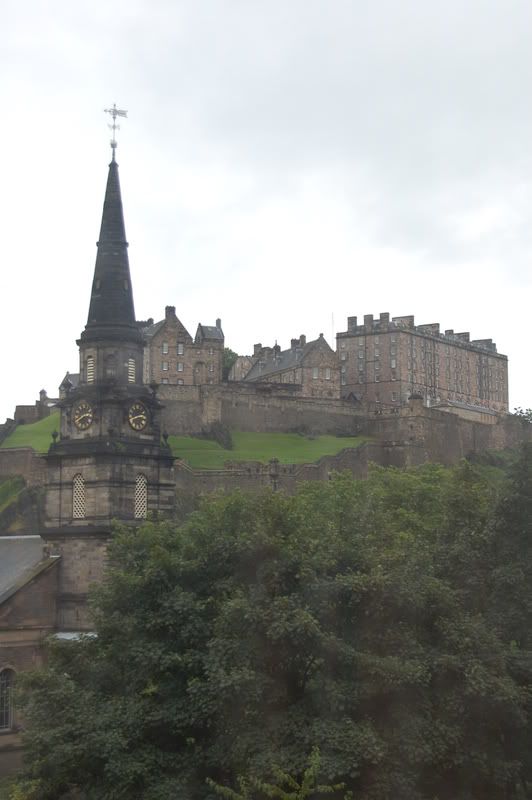 We kicked back a little on our first day there and just walked around the city and let the girls play at a playground that was very, very close to the hotel. It was nice just to chill a little. The next morning we set out to breakfast and unfortunately, Moe got her finger stuck in the elevator door. We literally had to pull it out. I am sure you can imagine the screams that followed. However, a special order of pancakes from the hostess at the restaurant quickly made things better. We started at Edinburgh Zoo. This zoo is 800 acres built on the side of a mountain. You spend 1/2 the time walking up the mountain and the other half walking down. It was really neat though. Their penguin exhibit was the most amazing thing I have ever seen. You could reach out and touch the little guys. Of course, they didn't want you to but you could if you are one of those "rule breakers" which I am not. We soon made our way to the zebras where there was a mama and baby that were so sweet. There were also two other zebras...a daddy and a brother according to the girls. There was a zebra that decided to role around in the dirt on his back which had us all giggling but then he began tooting whilst doing it and then we all just roared laughing. Other Guy got it on video, although it's probably shaky considering how much we were laughing.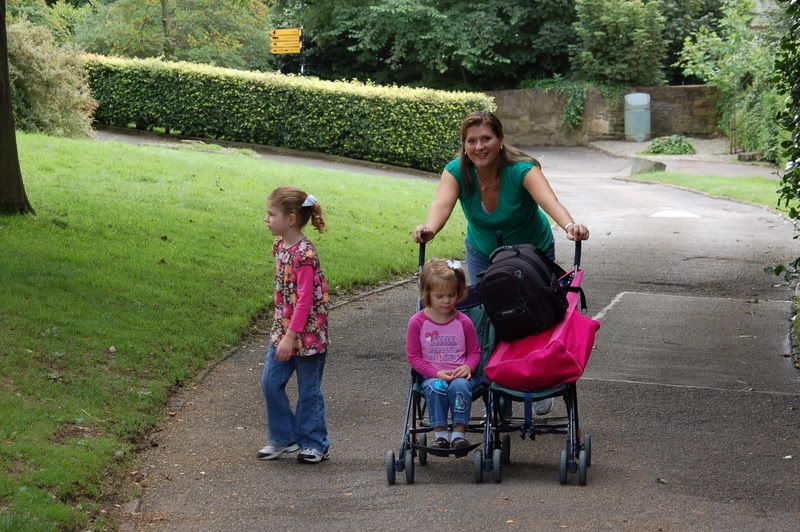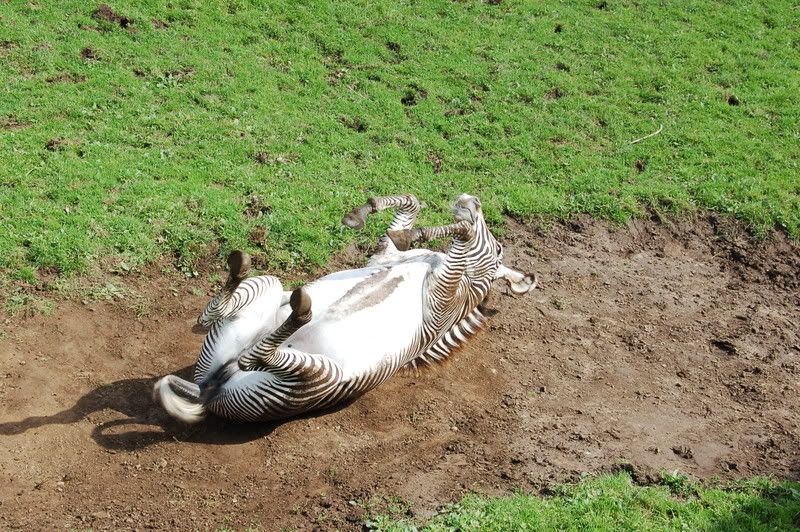 On a side note, I have mentioned in prior posts that there is just something about me and animals. They all just feel the need to mate around me...not sure why but they do. So, to add to my list of Animals I have witnessed mating...we were able to see lions mating. I laughed my head off. We were peeking through this fence because you really couldn't see them any other way as they were secluded from the other lions. Anyway, you hear a big roar and then the song started playing...Let's get it on...Okay so that part is a little embellished but man o man you should have seen that lioness get ticked off at Mr. Man. She swatted at him and started roaring. The girls said he woke her up and made her mad. Other Guy and I just laughed harder. Other Guy said he was sure the lioness was smoking a cigarette when we left ;0)
The rest of our day was spent at the Castle. It was so cool. We went through a tour and heard some history and then walked around. That place is HUGE!!! The girls especially enjoyed the cannons. They also wanted to wish their grandparents a happy anniversary in a special way...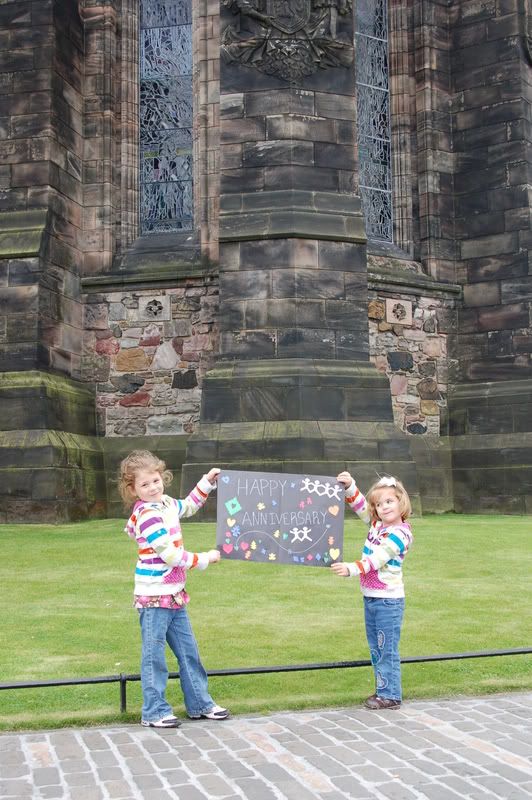 The next day we went to a place called Hollyrood. This has the castle that is the Queen's residence whilst in Scotland and it also has a large park. There is a part of the park called Arthur's Seat. It is a pretty big, no make that HUGE, climb. We figured what the heck and started out to see how far we could get. Two small children, a backpack, a large duffel bag and no stroller. Shockingly we made it halfway and the only reason we stopped was due to safety. It just became to steep and we worried about getting the girls back down.
Pre Climb
Post Climb
We ended the day back at the park where Curly got to Bungee Jump...well kinda. I've posted a picture so you can see. We promised Moe a ride on the Merry Go Round but she was too little. So, Other Guy cheered her up by offering her a favorite past time of hers. Chasing Sharpay Eagles...what are these you ask? Well, their official name is seagulls but not according to Moe! They will forever be Sharpey Eagles...I guess they can live with the Formingos.
Well, thanks for sharing in our travels...next weekend, it's Paris! Can't wait...
Peace Out!
Labels: London Days