Care Package from Home...
Today was one of the highlights of Curly's and Moe's trip abroad. Shortly after dinner, I took the trash out and decided to check our mail. (It's not that we get a lot of mail, as a matter of fact we have only received one mail item whilst being here and that was train tickets.) Anyway, there was a little note inside the box that said a package had arrived and we could claim it downstairs.
I was so excited when I got the package and realized that it was for the girls...I raced back upstairs and told them to quickly get in their jammies because they had a surprise. They were moving so quickly that Curly's arm got stuck in her nightgown and Syd's was caught in her panties. It was really cute.
They opened the package and found one of their greatest treasures...something they have been asking for since about week 3. OATMEAL!!! Not just any oatmeal, mind you, the good stuff...peaches 'n cream, strawberries 'n cream, blueberries 'n cream...you get the picture. I brought a couple of boxes over with us but since everything here taste different, they blew through that pretty quickly. They were so excited that they requested it for their snack before bed. How could we say no to that?
Also, included in the box were two stuffed bears. On a side note, my children are obsessed with stuffed animals. I'm not just saying that lightly either. They can tell you every animal they have, who gave it to them, what their name is and how many times Grandma has had to sew together a boo-boo. I once tried to get rid of a few and got busted...boy, did I live to regret that.
Eachof the girls also had a stack of letters in their box from friends in their Sunday School classes back home. I almost cried....seriously! Curly took one look at one of the pictures and said, "that is from my friend C, also know as Posh Spice
here
. She always colors my curly hair!"
I have to tell you that I just love the Theriot family. They are the one's who happened to be in London when we arrived and also teach Curly's Sunday School class. They arranged all the artwork and bought the bears and oatmeal. I am so grateful to them for taking the time to think of our girls...they lead a very busy life with two teenagers of their own but wanted to make sure that our girls knew they were missed back home. Thank you, thank you, thank you! You are very special to us.
Here is a picture and a short video from the girls: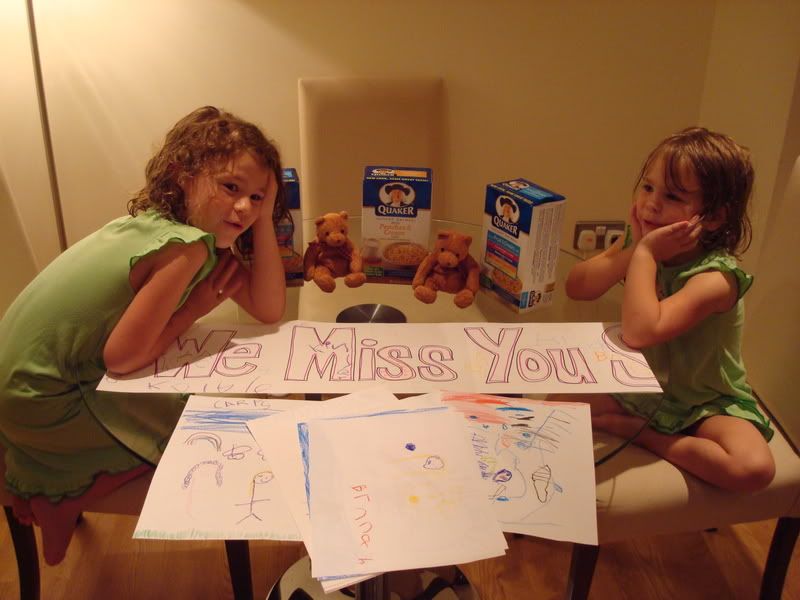 Peace Out and thank you for reminding us that we are blessed beyond measure.